Welcome to K & M Wood Works,
For over 36 years, K & M has been providing custom kitchens, bath, entertainment centers, home office furniture, and high-end custom woodworking crafted to meet your design requirements. We work with you, providing you with hand drawn designs at no cost to you to help you envision and realize your unique lifestyle and home environment.
Our goal is to provide great design, outstanding craftsmanship and excellent results. We have become well known in Port Angeles and Sequim for our outstanding products, workmanship and service. Our work is guaranteed, and we can provide more examples of our work. The gallery has photos of some of the projects we have completed, both residential and commercial. Please give us a call right away and discuss your requirements today, or you can email us at: [email protected].
Why Choose Us ?
35 + Years of Experience
Pride of workmanship and attention to detail in the norm at K & M
All cabinets use 3/4 panels on interiors.
Tongue and Groove construction
Full Extension side or under mount drawer slides
Complete range of materials
Finishes are Leeds certified green, low VOC, cross linked acrylic lacquers (water base). Our finishes are non yellowing and quite tough, resistant to chemicals.
Low overhead makes us very competitive
Cabinets are made here in Port Angeles.

What we do?
K & M Woodworkers has over 35 years experience in producing quality wood products, be it custom furniture or home cabinetry. Anything that we make demonstrates the essence of quality, designed and fabricated to last a lifetime. Every project starts with a consultation to help ascertain the needs of the client, followed by a series of hand drawn designs illustrating said project. Due to our modest overhead, we are able to create high quality for a modest price. And our experience guarantees that you will be more than satisfied. Following are a few examples of what we have done and do.
Custom kitchens and baths, from simple designs to the high end, using all types of wood from common to exotic.
Entertainment centers.
Bookcases.
Office desks, executive desks, file units (wood).
Custom furniture of many types.
Note: All of our cabinet construction, which makes up the bulk of demand, is traditional frame and panel, all panels are tongue and grooved into the frames. We use only ¾"pre-finished panels, nothing is nailed. All other panels such as bottoms are screwed into the sides, making for an absolutely sturdy long lasting construction. Additionally, we use high quality water based acrylic lacquers, with extremely low volatiles, adding almost nothing to air pollution. Our finishes are tough, chemically resistant, and non-yellowing.
For more information, contact Ken at K & M by phone or email on the contact page.

Project Gallery
Click on the images to enlarge.
Client Testimonials,
When I wanted to remodel a 70's kitchen I checked out ready-made cabinets and floor plans at local stores, including a couple of chain stores. I wasn't very happy with either the prices or the waste spaces. A neighbor suggested checking out Ken and getting an estimate. He came out, measured, listened to the "extras" I wanted, i.e., spice rack, plate rack, tray storage, etc. and drew up a sketch. Shortly thereafter he gave us an estimate and several choices re the extras. He had researched my options on the internet. After we had agreed on the price he measured again and began the project. He coordinated his work with the electrician, the plumber and the tile person so that tasks were completed in the order necessary and we were not unduly inconvenienced during the remodel.

When the cabinets, island, and appliances were all installed we were more than satisfied and quite pleased. It is a showcase with all the conveniences I had asked/hoped for. Two years later, I asked him to build me a bookcase in the kitchen to house my cookbooks. Again, most pleased with the workmanship and the working relationship. Would recommend Ken and Maria to anyone looking for fine woodwork projects.

Pat Gilbert
Port Angeles
The Peninsula Housing Authority has built more than fifty new homes in Clallam County, under the Self-Help program, in the past six years. As a construction supervisor for Self-Help, it is my responsibility to act in the best interests of our owner/builders as a technical advisor, instructor and contracting agent. One of my main concerns in dealing with contractors hired for professional services is to find competent, honest and reliable help during construction.
Ken Strain and his wife, Maria, (K&M Woodworkers) have been invaluable to us in our projects. They have built custom cabinetry for kitchens and baths in every new home we have built, of numerous different designs, and have never failed to deliver top quality at very reasonable prices. Ken is always willing to make suggestions that improve upon design and function, incorporating these ideas into finished cabinets, often at little or no extra cost, that meet or exceed any reasonable expectation.
In addition, I have found that, should anything unexpected occur, and changes or repairs are needed quickly, Ken and Maria respond immediately and resolve any problems to complete customer satisfaction. It has been my experience that it is often difficult to find professional tradesmen with whom someone does not find some complaint, however minor, over a long period of time. I can honestly say that Ken and Maria live up to the standards that one hopes for in hiring independent contractors and I can recommend them and their cabinetry work without reservation.

Bruce McCoppen
Port Angeles
If you are willing to leave a feedback/testimonial please Click here
Contact Us
K & M Woodworkers
1619 South Butler Street,
Port Angeles, WA 98363-1339

Phone: (360) 457-9773
Email: [email protected]
Location Map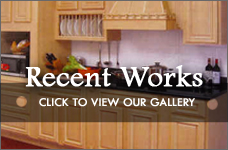 Contact Info,
K & M Wood Works

Port Angeles, WA 98363


Phone:
(360) 457-9773
Email:
[email protected]